Meinel & Herold Harmonikafabrik und Versand
was a (handheld-) harmonica manufacturer in Klingenthal and distributor of musical instruments. I do not know details about bandoneon models they offered. The dual reed instruments in Argentina which were imported by Luis Mariani, Buenos Aires, are considered to be more brilliant than AA or even ELA instruments.
They were sold under the brand
3B
,
BBB
, or
Tres B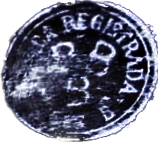 Mr. Werner Meinel, a former owner of the Meinel & Herold Company explained that the company's philosophy was always to sell directly to the customers, at least for the domestic market. As he confirmed, the offered bandoneons were manufactured by AA, ELA, and particularly the quadruple reed instruments by Gebr. Meinel, Klingenthal. In spite of the name of the latter, they were independent and had nothing to do with each other; in Klingenthal there are about 400 families with the same name.

After World War II the Meinel & Herold company was nationalized, like all the other companies, and controlled by the VEB Klingenthaler Harmonikawerke. At that time the bandoneon market was already insignificant. During the early 1970s M&H was integrated into the Gebr. Gündel, Klingenthal company and the bandoneon production definitely vanished.