Subsections
---

Old Instruments

Alfred Arnold (AA)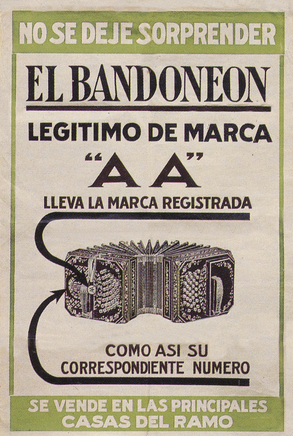 The bandoneons exported to South America were distributed by a single retailer. This unique privileged representative could decide about the final consumer price. Since this system made the instruments more expensive, Alfred Arnold created new brands for his bandoneons. This way he could bypass exclusive distribution treaties made with the importers, and deliver the new brands to competing importers.
The main importer in turn reacted by numbering each sold instrument and engraving it visible from the outside. This number suggested to be a serial number being at the same time the proof of the original instrument. Not numbered bandoneons were then considered not original being less considered. On the second hand market false numbers were then common. However with some routine they may well be recognized
Inside the instrument you'll find in most cases a hand written numbers, later they where stamped. These numbers again are not real serial numbers. They were used during production to keep parts of one instrument together. You may find them on reed boards or on the bellow frame. The bass side with a B prefix, the treble a D (Diskant) In fact, the numbers were not current. They are not related to any production year or about the number of produced instruments. Many instruments were exported as kits to be assembled at destiny, a way to circumvent the high taxes applied to ready-to-use bandoneons.


142 voice
"doble A", Alfred Arnold, 142-voice, 1915 (according to design and to serial number '1665'), in excellent condition, owned for 60 years by Juan Luciero who played in tango bands in Salto, Uruguay. There is no AA label. Finished in black veneer with three-diamond inlay, very similar to Rene Marino Rivero's instrument. Inside is a stamp of Bianco Ltd.. Sr. "Toto" Bianco was a bandoneon tuner from Montevideo.

Premier 152 voice

label

PREMIER

MARCA REGISTRADA Alfred Arnold - Carlsfeld
label in golden letters on the belly frame as seen on the picture, additional relief stamp with the same text on the right handle (players side) and AA circle relief stamp on the same handle (front)

serial number

inside left hand cover and belly frame (violet stamp) B35253 the same on the reed plate #1 of the left side with pencil inside right hand cover and belly frame (violet stamp) D35253

size

244 x 232 mm (depth by height), 340 mm width with closed belly

weight

approx. 5,5 kg

housing

plywood, black, relief number 10099 below the fretwork (series number of the housing manufacturer?) damper case waved (seams to be important to determine the age)

buttons

left 36, right 40; makes 152 tones and is an extension of the 142 tone system 'rheinische Lage' used at the La Plata (bisonoric)

reed boards

zinc, each 2 x 12 reeds; system: 2 chorus, 4 buttons of the right hand: 1 chorus (total 296 reeds)

remarks

the 5 additional buttons are original, most levers easily removable, belly (3 x 5 folds) replaced on march 1995

Alfred Arnold Campo 142 voice

Campo is a sub brand of Alfred Arnold for low cost bandoneons and was available in Uruguay. The finish is always plain, minimalist and directed to students. The high end bandoneons like PREMIER with all luxury options, were distributed by an other importer.




Alfred Arnold ALFA
ALFA stands for Alfred Arnold. Similar to Campo it is a sub brand of Alfred Arnold. They were low cost models for the small market Uruguay.




Alfred Arnold Chromatic Bandoneon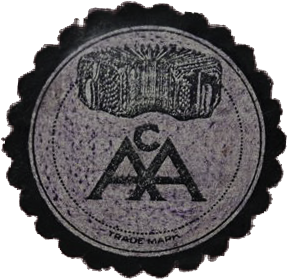 The

c

in the AA Brand indicates a chromatic (unisonor) bandoneon.
The bandoneon for accordionists was created by Charles Peguri to satisfy the needs of French musicians of the 1920 ties performing the popular tango. As already mentioned, only new reed boards were used to mount into a regular rheinische lage bandoneon.
Alfred Arnold was the only manufacturer of this type of bandoneon.
The shown instrument appears to be in a very good conservation state. It is not common to see engraved button key codes on a unisonor bandoneon, since they were created created for the bisonor bandoneon. Probably this happened while the instrument was refurbished. The finish looks handmade.


---

Alfred Band

The company of Alfred Band in Krefeld, a son of Heinrich Band, was first mentioned in 1886. During the first decade of the new century, the commerce with bandoneons was abandoned due to strong competition. Alfred Band died in 1923. It is known of a company's representative in New York.
I know on an other Alfred Band instrument in Argentina dated June 1902.


130 voice
This antique instrument belongs to Ricardo Roucau, a professional magician and tango fan living in Miami.
He wrote:

A stamp inside reads:

Alfred Band
Fabrik v. Bandonions
Verlag v. Musikalien f.Bandonion
LAGER
aller Musik-Instrumente
Cataloge und Preiscorante gratis
CREFELD

Unfortunately, there is no date inside and I believe it was made before 1890.


The height of the shown instrument is 21 cm, depth 24 cm and (with closed bellow) 53 cm wide. The bass consists of 25 keys, the treble has 29 keys (bisonor) corresponding to the 130 voice layout.

Inside the bass cover and on one treble reed plate there is an inscription saying 108 octav which means that the 108 voice instrument has all its 108 voices with double reed, octave tuning.

The instrument was bought by the actual owner in an antiques shop in North Miami in 1986 being originally from Wisconsin, a State with a certain bandoneon tradition inside the USA.
If somebody knows more details, please send a mail to the owner with carbon copy to me.
The type of bandoneon preferred for tango consists of two reed registers tuned exactly one octave apart. The resulting sound should be totaly dry. Oposed to the dry tuning, it is also popular to shift the pitch of one register by an amount of up to 10 cent. The result is a more or less pronounced tremolo sound like that of an accordion (in German: Schwebeton). If more registers are available, it is possible to mute entire ranks in order to modify the timbre by acting register switches.

Ernst Louis Arnold

ELA Louis XV
This Louis XIV instrument (in Argentina known as Luis XV) is a 152 voice, rheinische Tonlage (argentine type), double reed instrument with aluminum reed plates. The ornaments are typical for Ernst Louis Arnold and might be from the end 1930ties. It looks like never played.
This instrument was owned by Eckhard Gubitz-Eismann / Germany and is now in possession of - Italy.

ELA America
This instrument, approved and signed by Pedro Berto, is of approx. 1930. Its reed plates are made of aluminum, a light metal
introduced in 1923 for this application. While it was highly appreciated in Germany, particularly for the larger multi register instruments keeping the weight low, the tango musicians preferred the heavier and cheaper zinc.
The heavy reed plates have an advantage for managing the bellow. The technique consists in using the own weight for opening and closing with the leg movement while the bellow heads rest on the knees. Many bandoneonists insist in zinc because they find a better sound.
Please note, this instrument has bellow edges. They may be considered a decoration or enforcement. The final total weight of 5240g is the same as a zinc /no edges instrument. The heavier bellow may be slightly slower.
---

Meinel & Herold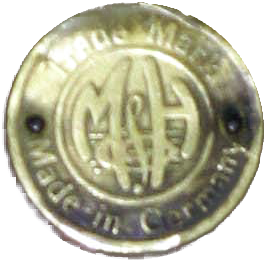 Meinel & Herold Harmonikafabrik und Versand was a (handheld-) harmonica manufacturer in Klingenthal and distributor of musical instruments. I do not know details about bandoneon models they offered. The dual reed instruments in Argentina which were imported by Luis Mariani, Buenos Aires, are considered to be more brilliant than AA or even ELA instruments.
They were sold under the brand 3B, BBB, or Tres B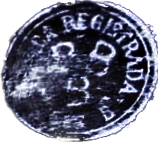 Mr. Werner Meinel, a former owner of the Meinel & Herold Company explained that the company's philosophy was always to sell directly to the customers, at least for the domestic market. As he confirmed, the offered bandoneons were manufactured by AA, ELA, and particularly the quadruple reed instruments by Gebr. Meinel, Klingenthal. In spite of the name of the latter, they were independent and had nothing to do with each other; in Klingenthal there are about 400 families with the same name.


After World War II the Meinel & Herold company was nationalized, like all the other companies, and controlled by the VEB Klingenthaler Harmonikawerke. At that time the bandoneon market was already insignificant. During the early 1970s M&H was integrated into the Gebr. Gündel, Klingenthal company and the bandoneon production definitely vanished.




The BBB Brand

Mr. Yoshiro Kido, who owns a BBB (Tres B), confirmed this behavior and considers it tasteful. The dimensions are close to an ELA instrument. However, the fret work and other details remembers of an AA.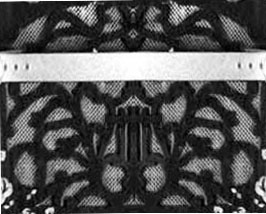 ---

Danielson 142 voice
owns a Danielson Bandoneon build on August 22, 1961 by Sr. Arno Goettems, serial # 161.
It is a 142 voice, double reed instrument (octave) with aluminum reed plates and a keyboard like that used in Argentina.
Emílio Lima owns a Danielson built on February 9th, 1962 (serial # 212). He says, up to 1996 a total of about 1200 instruments were built.

Wolf & Co.

130 voice, single reed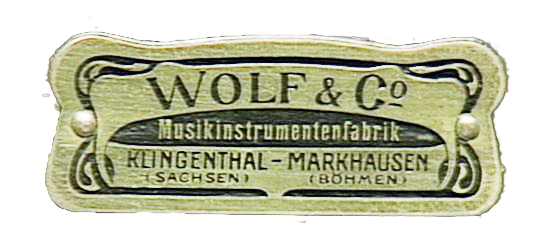 Wolf & Co. is known to exist for at least since 1911. The mother factory was located in Klingenthal (Saxony) and a second one was in Markhausen (Bohemia).

The shown instrument is a 130 voice single reed instrument in original rheinische Lage with zinc reed plates mounted on box shape reed chambers for the bass, and flat board chambers for the treble. The size is smaller than regular dual voice instruments: 20 cm height and 21 cm deep. The closed instrument is about 27 cm wide without the handle and buttons and 37 cm over all. In extended state it measures about 67 cm. The reduced dimension of the instrument is possible since only one reed acts per note.

The pencil written serial number (156) is found inside each instrument cover. A round swiss customs stamp says ZOLL I-28 and indicates presumably the time the instrument was imported.

The buttons are made of wood and are partially capsuled with metal caps (original) like those used until World War I. Some of the buttons are simply painted with aluminum paint and have metal plates glued to the tips. Other buttons are not original and remade of aluminum with the advantage to having no friction with the wooden cover. The average button distance is 22 mm and indicates that it is not a children's study instrument.

The bellow has 10 folds each 26 mm deep and which are devided by one bellow frame (10/1). The bass dumper case is straight (no wave shape).

The instrument sounds very similar to an english concertina due to the single reed construction and the large volume of the reed chambers. It is far less agressive but sweet and a bit dull.

A sound example

The owner of the bandoneon is Beat Muggli, Switzerland.

Bavarian Bandoneons

Wiesner Bandoneon

In contrast to the established free-reed manufacturing centers like Saxony, or Black Forest, the harmonica makers in Bavaria were very small manufacturers producing hand made instruments for the local market on demand.

The name Wiesner is known for many free reed instrument makers in Munich. However, there is no evidence about their parentage. Maria Dunkel refers to Willibald Wiesner, Harmonikamacher, est. 1859, but also to Carl Wiesner, mentioned first in 1869. A company named Gebr. Wiesner, Konzertina und Harmonikamacher is known as of 1906 and which possibly belonged to the brothers Wilhelm and Josef. This manufacture survived World War I.
Josef Wiesner made bandoneons under his sign during the time from 1925 to 1942. He was known as very inventive, owning lot of registered patents concerning improvements of musical instruments. He constructed a bandoneon with a piano keyboard, presumably even before World War I. Also a disposal to play any bandoneon free hand, in a similar way to a symphonetta, is of his authorship.

The keyboard layout of the model shown below, is characterized as as ``Schrammelbandoneon''. The Schrammel music has it's origin in a folk music style created by Johann and Josef Schrammel during the second half of the 19th century in Vienna and which influenced the folk music style of the surrounding regions including Slovenia, Hungary, Bavaria among others. The development of the keyboard layout started from the 130 voice rheinische Lage to which new keys were added, but in a different manner than for the Argentinian type.
Each note is produced in this model by 2 reeds. However, the sound differs clearly from dual reed instruments used in tango: There is no dry character and sounds far softer. The reason is because of the different construction:
The bass instrument side differs from the usual instruments in the lack of a dumper box. The dumper mutes the high partials of the bass and produces a soft sound similar to a cello. The sound of the overlapping range of notes from the left and right side does not differ significantly.
The large dimension of the cabinet compared with other dual simplifies the building of instrument variants with 3 or even more reeds per note. Also it may have influence on the sound color comparable to a damper case.
Furthermore the tuning is done with a pronounced tremolo, for at least all the bandoneons I heard in Bavaria. The softer sound is requested not to disturb other silent instruments used in Bavarian ensembles, typically formed by two violins, double necked counter guitar, clarinet, double bass.

The pictures below are taken from a Josef Wiesner instrument belonging to Alois Scheungrab of Ampfing near Mühldorf am Inn (Oberbayern), the last living pupil of the virtuoso Georg Weinschütz of Munich (died in 1948).
The last two pictures are basically also a Wiesner instrument, but the cabinet was rebuilt by his owner, Alois Scheungrab. Note the heavy construction and the covered valve lever at the treble side.




Bert Smit's Chemnitzer
Alfred Arnold Chemnitzer Concertina in "Scheffler'sche Lage", build in 1932. Three reeds per button on the right side, two or three per button on the bass-side. In total there are 52 buttons and 104 tones.

Bert's email address for further info: